I would like to introduce you to the quickest sloppiest crookedest most carelessly created underskirt of all time. Okay, maybe not *the* sloppiest, I've certainly made some whoppers in my time, but you get the idea. I gave myself 10 days to create the underskirt and camicia, but I wasted all those days doing nothing.*
*Christmas shopping, acquiring groceries, cleaning dirty house, cooking food so family doesn't starve, doing 18 million loads of laundry, volunteering at the school, chaperoning a dance, making a Hawaiian Quilt presentation to third graders, making Hawaiian Quilt demo cards from paper, visiting a retirement home, repairing my grandmother's lounge pants because I can't say no, seeing the Hobbit the day before the premiere, getting all sciency at OMSI family night, cheering my son at a swim meet, enjoying two Blazer games, and, and, and SLOTHS! Spending a day cuddling and feeding sloths, fennec foxes, lemurs, owl monkeys and flying squirrels. So yeah, nothing.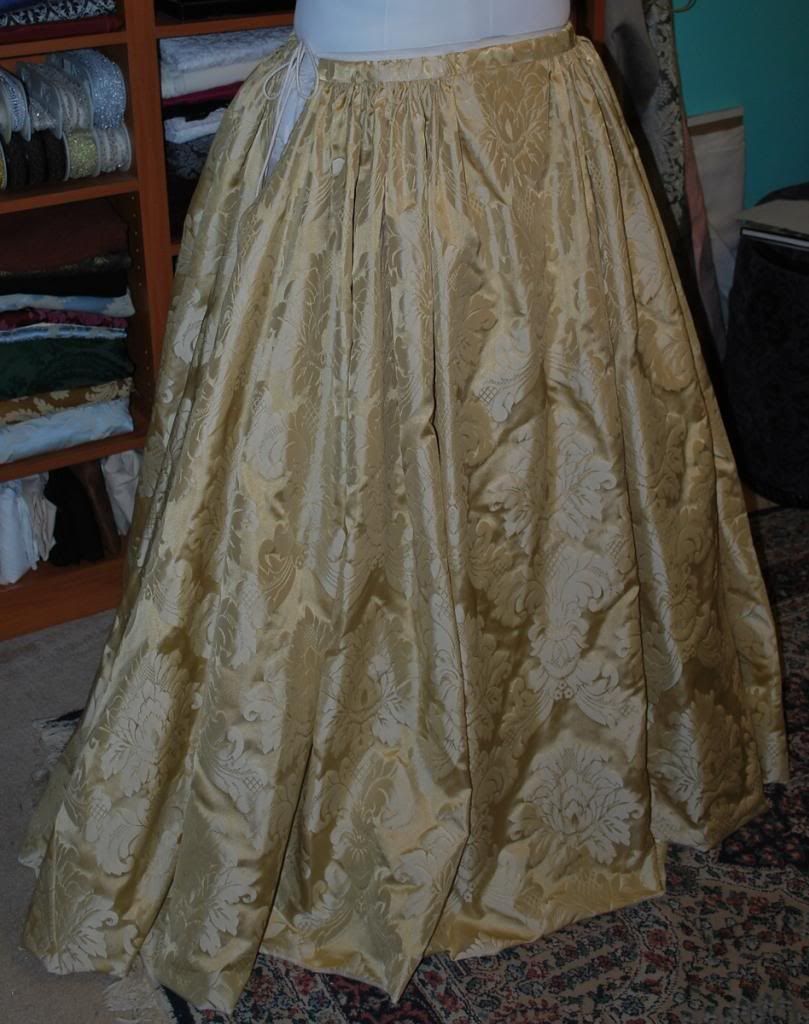 I am not proud of my workmanship by a long shot, BUT, it's done, and done is good. I am the only one who will ever see it! It's going to be all covered up by the main over gown. So, here are some pics to show you how it all came about:





Skirt pieces laid out, ready to sew that odd little frankengore to the side. I like the way it makes the skirt hem swing out. So much nicer than a plain panel skirt. The skirt pattern is based on Janet Arnold's Eleonora skirt, but I bastardized it to suit my needs. I don't think I'm capable of just following a pattern. Stuff needs-a-changin'!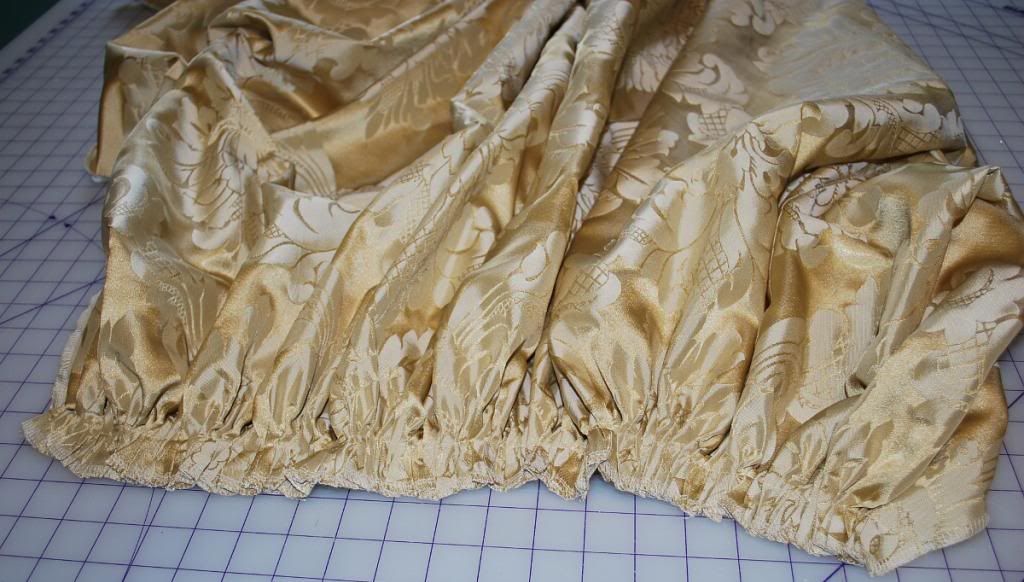 I used my ruffler to pleat the waist, I wasn't about to fuck around and dither about pleating. Had to get it done! It's not the best method for that fabric, and it's certainly not perfect, but it worked and saved me hours of precious skirt making time!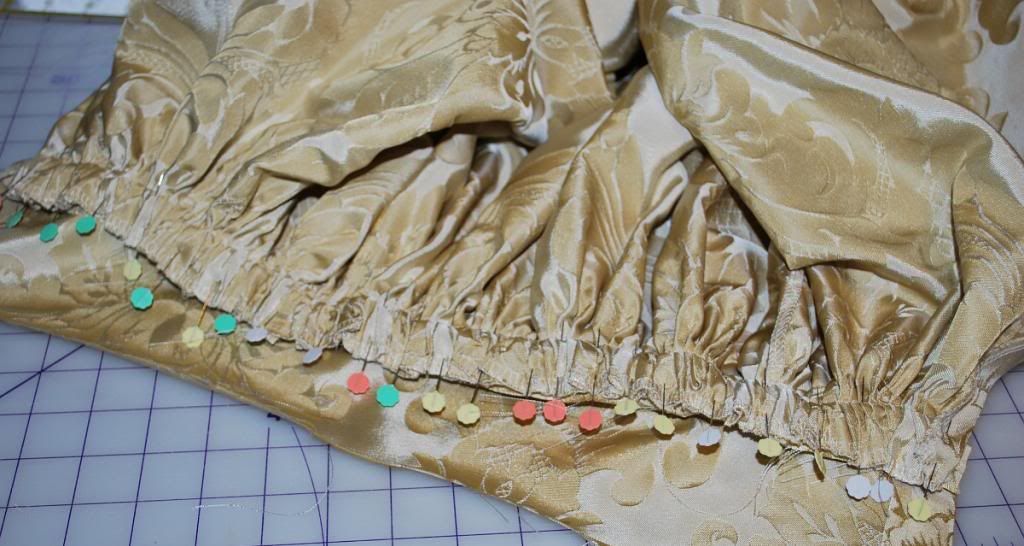 Pinning on the waistband...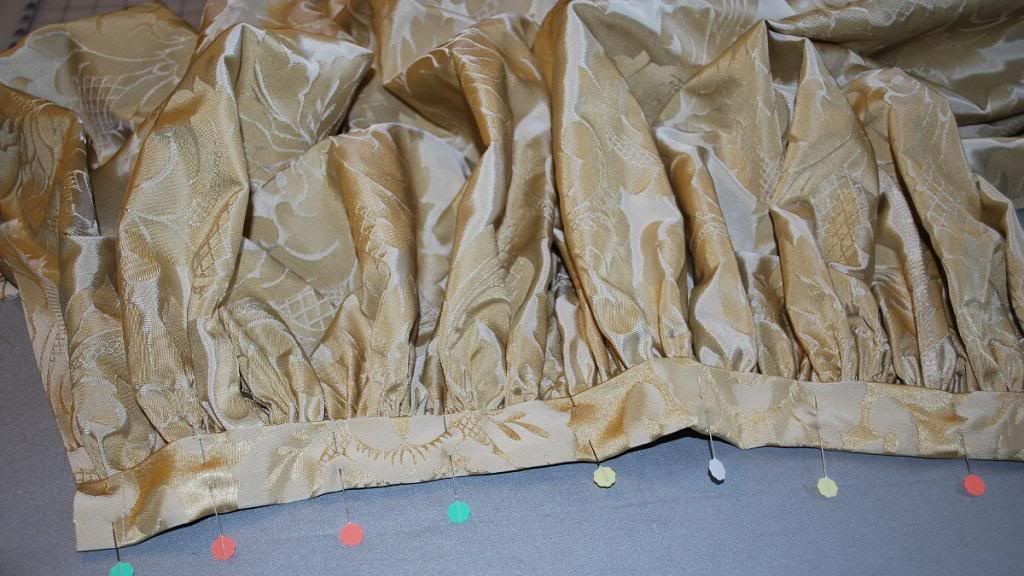 Ready to sew that bad boy down!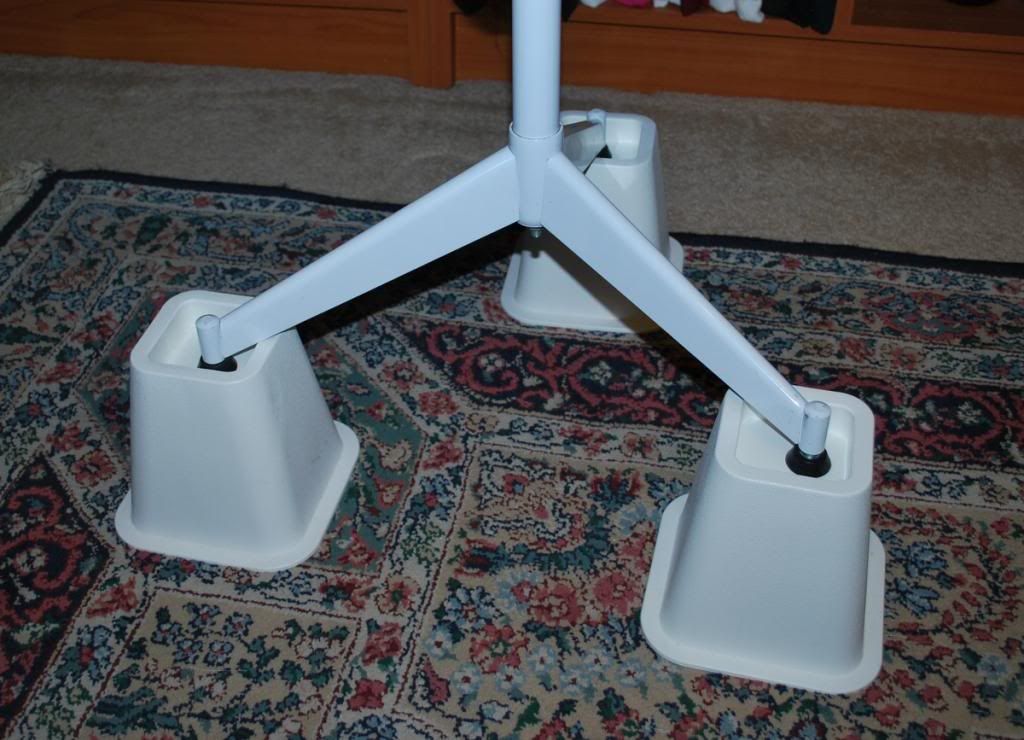 I don't need chopines, but my dressform does! Those are bed risers you can buy at bedding stores. So handy for a tall seamstress! They used to lift up my ironing board and cutting table before I went and made a more permanent solution. Ergonomics rock! If your cutting table and ironing board aren't high enough, you need to fix that. Save your beautiful back!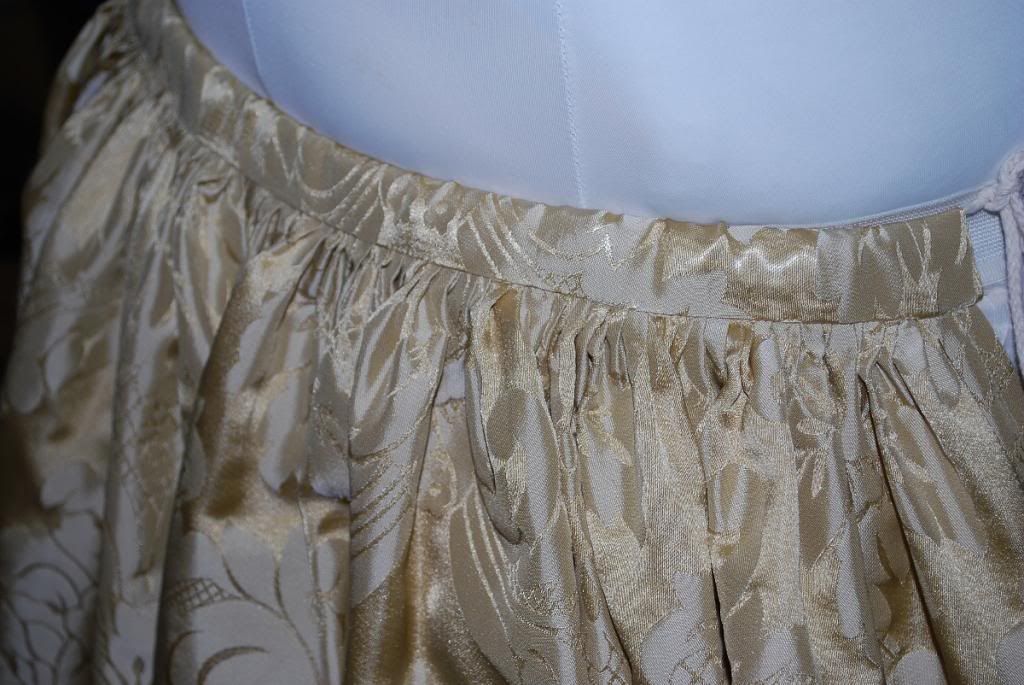 All those little ruffler pleats jammed into the waistband.



Here's the side split to accommodate my fluff. I was so dismayed at how fat I have gotten that I purposefully made the waist too small. I can wear it as is with the split sides, no one will see, but I instantly shunned the carbs to whittle down my waist a little before the event. Shoot. That sucks. There's a whole rant in me that wants to whine and cry and kick things because I got fat… but that's just dumb. No one wants to hear about that.

There is a drawstring in there now, but after I hit up the fabric store I will have some belting and d-rings in there—a much better solution.
This skirt is obscenely enormous. I mean, seriously! There's four panels of 60" wide fabric in there, each panel 50" long. That's a damnlotta fabric, but I'm a damnlotta woman!






I always make a flat spot on the front of my underskirts, for two reasons: One, like I need any more bulk at my belly! And two, I like my girdle to lay nice and flat and not disappear into the gathers and folds as it is wont to do. Last time I wore this girdle it was absent in all the photos and it pissed me off. A little flat spot in the front fixes that.

So, there you have it! Underskirt done, Time to forge ahead. The rest of the days before christmas there's not a lot going on, so I should be able to accomplish quite a bit.