I don't know why I'm suddenly obsessed with finding the perfect pleating tool, I should just shut the hell up and get my skirt done already… PSHAW! But then I just wouldn't be me.

I came back from the store with another BBQ fork, this one is ¾ inches wide and cost a whopping $2.49. It works brilliantly. Nice long strong tines, evenly spaced, flat, perfect. Super easy to use. Love it.

But, then all the hare brained schemes started pouring in. A hair pick! Tuning forks! Garden trowel! Plaster comb! Chocolate dipping tool! A dog comb! I can clip apart a wire basket! I can screw together several meat forks! I can drive nails through a piece of wood! I can ask
the_thread_lady to make one out of wood! I can ask
katanubis to see if her husband can make a metal one! BLAH BLAH BLAH my head was on fire by that point.

Funny enough, one of those ideas actually works—the hair pick. The plastic ones are not worth bothering with, but the ones with the thicker metal tines are acceptable. The metal pins are sturdy enough to do the job if you are gentle. I'm not so gentle, so I prefer working with the meat forks, but the hair pick allows you to adjust the length of the return and pre-measures the pleat width… not a whole lot of brainwork going on there. I do like that part. The forks are better, for sure, faster, but you are trapped with a certain length of return and you have to eyeball the pleat width. Almost everything I make that needs pleats is a 2 inch return, so really I'm totally happy with my old BBQ fork I found in the kitchen. But… I know there will come a time I need something a little different. Enter: the hair pick.

I think the pick will be useful for thinner projects—furbelows and such. Or when I need a return that isn't 1.5 or 2 inches. I just wish the tines were rock solid like the meat forks. Ah well. This is where a custom tool comes in. Maybe someday! In the meantime, I can make do with a meat fork and hair pick. (There's a sentence I never thought I'd utter.)

Here's the one I found at Sally's Beauty Supply for $2.79. Of course, I may or may not be a Black Panther now. I guess I'll find out at the next meeting.





And, here's a demo how I used it.

1) start with the pick on top of the fabric:



2) find the tine that matches the length of the return you want, and duck the fabric beneath it:



3) Line up whichever exposed tine matches the width of the pleat you'd like. (See the fancy pink arrow!)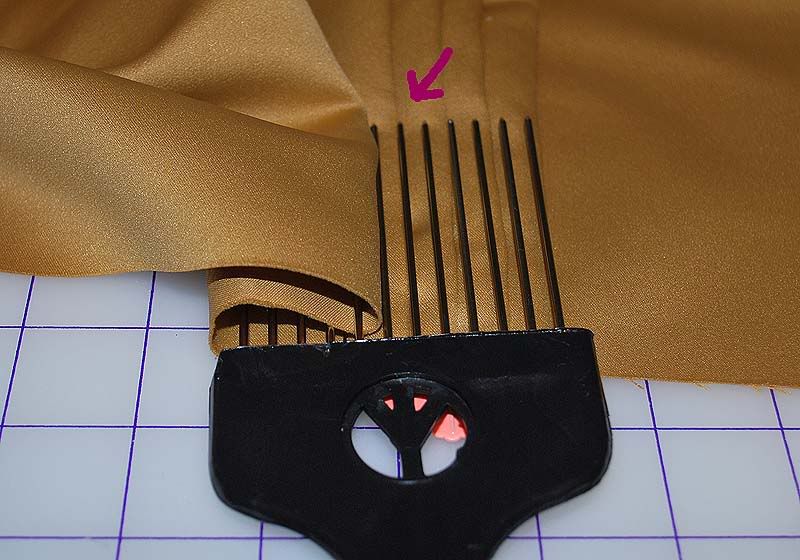 4) Gently tighten up the fabric. Be careful, the tines are a little flexy when tugging the fabric: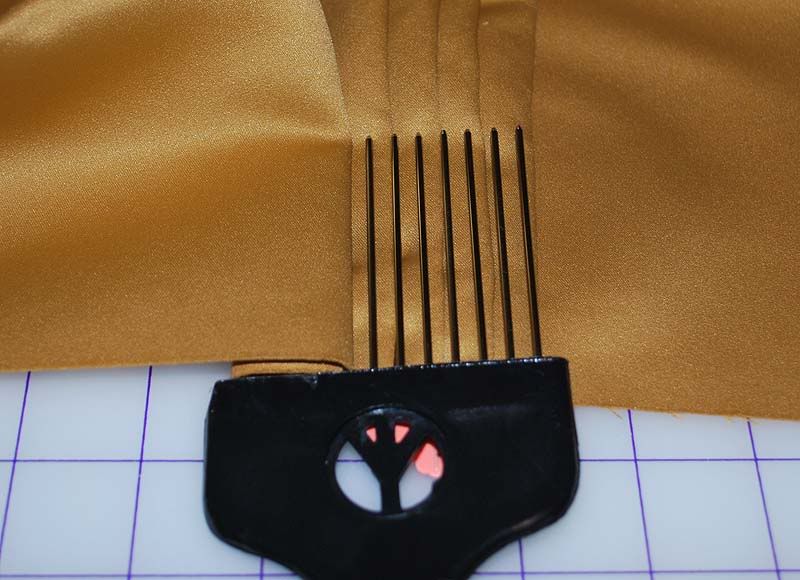 5) Slide out the pick, pin in place: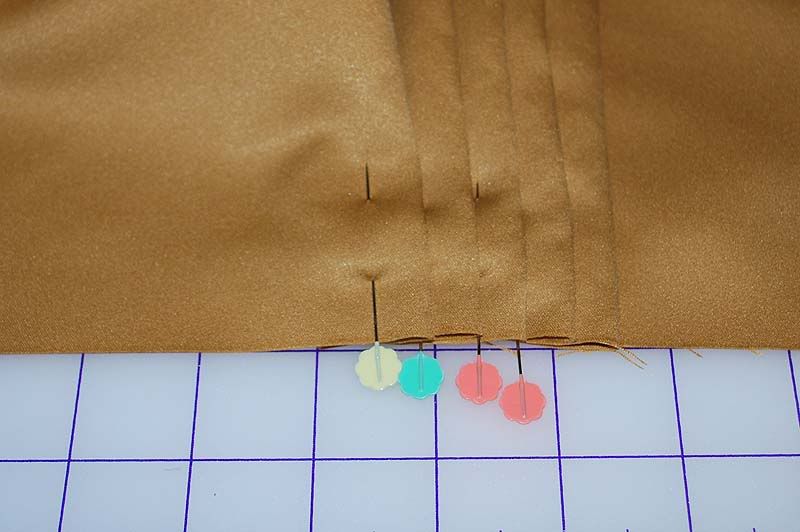 TADA! It works really well, but it is not as fast or as strong as the meat forks. If only we could combine the adjustability of the pick with the strength of the forks.

Until next time, POWER TO MY COSTUME PEOPLE!